Catherine E. Napjus
Patent Attorney and Homeland Security Consultant
Catie's practice is focused on the area of Intellectual Property with an emphasis on patent law.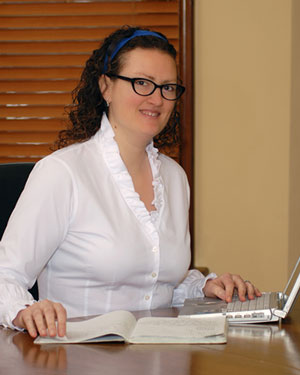 Background and Education
After graduating with a B.A. in Chemistry from Cornell University, Catie attended the University of Maryland School of Law and focused on intellectual property law. During law school, Catie was an articles editor for the American Bar Association's law journal "The Business Lawyer" and interned as a student attorney for the Maryland Intellectual Property Legal Resources Center, providing free legal services to emerging bio-tech start-up companies. Since graduation, Catie has obtained licenses to practice law in Maryland and California, as well as before the United States Patent and Trademark Office.
Prior to joining Lawson, Persson & Chisholm, PC, Catie worked at the University of Maryland Center for Health and Homeland Security as a law and policy analyst. In this capacity, she advised government officials nationwide on legal aspects of and best practices for emergency preparedness. She developed and conducted a nationwide training course sponsored by the U.S. Department of Homeland Security for training local, state, tribal, and territorial officials on Continuity of Operations Planning in the event of a disruption to operations. Catie conducted training sessions throughout the United States, and as far away as Guam.
Personal Interests and Activities
When not enjoying the view of Lake Winnipesaukee from her home in the Lakes Region, Catie enjoys traveling near and far. In addition to having visited nearly every state in the United States, she has visited sixty-three countries across five continents and looks forward to adding South America and Antarctica to her list. Her favorite travels include a safari near South Africa's Kruger National Park and a tour of temple ruins in and around Cambodia's Angkor Wat.
Catie can be contacted by telephone at
603.528.2900
or by email at
catie@laconialaw.com