Catherine E. Napjus
Patent Attorney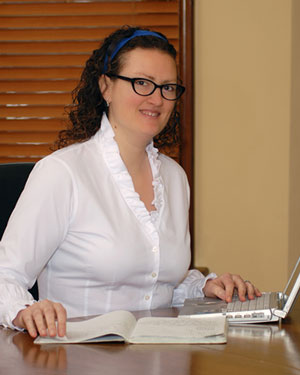 Background and Education
Catie's practice is focused on the area of intellectual property, with an emphasis on patent law. Her educational background in chemistry has supported her work on inventions such as methods for egg pasteurization and systems for heat sink refrigerant systems. The breadth of technologies for which she has successfully earned patents for her clients is much broader than those that are chemistry-related, however. From fiber optic test devices to climbing skins; dating app software to brain signal-based internet searches; and roof leak detection systems to weightlifting grip assistance apparatus, Catie's clients keep her interested and learning every day.
While not battling with the United States Patent and Trademark Office, Catie is also General Counsel for Zenzu, an Internet infrastructure consulting and advisory company. As the Internet is inherently international, her work with Zenzu has afforded her the opportunity to travel throughout six continents. (If Antarctica ever needs help with connectivity, Zenzu is game for the gig!)
After studying chemistry at Cornell University, Catie attended the University of Maryland School of Law and focused on intellectual property law. During law school, Catie was an Articles Editor for the American Bar Association's law journal The Business Lawyer and interned as a student attorney for the Maryland Intellectual Property Legal Resources Center, providing free legal services to emerging bio-tech start-up companies. Catie is licensed to practice law in New Hampshire, Maryland and California, as well as before the United States Patent and Trademark Office.
Personal Interests and Activities
In her spare time, Catie enjoys reading, running, crossword puzzles (especially the Thursday editions of the NY Times), yoga, and bowtruckle husbandry. She has traveled much of the world and is always eager to discover a new place or discover something new in an old place.
Catie can be contacted by telephone at
603.528.2900
or by email at
catie@laconialaw.com